So much fun for the kids
A French Alps summer really does mean activities for all ages. For kids, their perfect holiday probably includes games, animals and discovering the mountains. Alpine villages understand this, and provide lots of free (and paid) entertainment and fun for kids during every week of the school holidays. The whole family will enjoy the Bonheur des Mômes week-long festival for kids in August — the largest of its kind in France.
The little ones will also love the summer toboggan rides, pony rides (and horse riding for bigger kids), mini-golf, swimming, hiking, and an adventurous ride in the cable cars with flower-covered pastures below.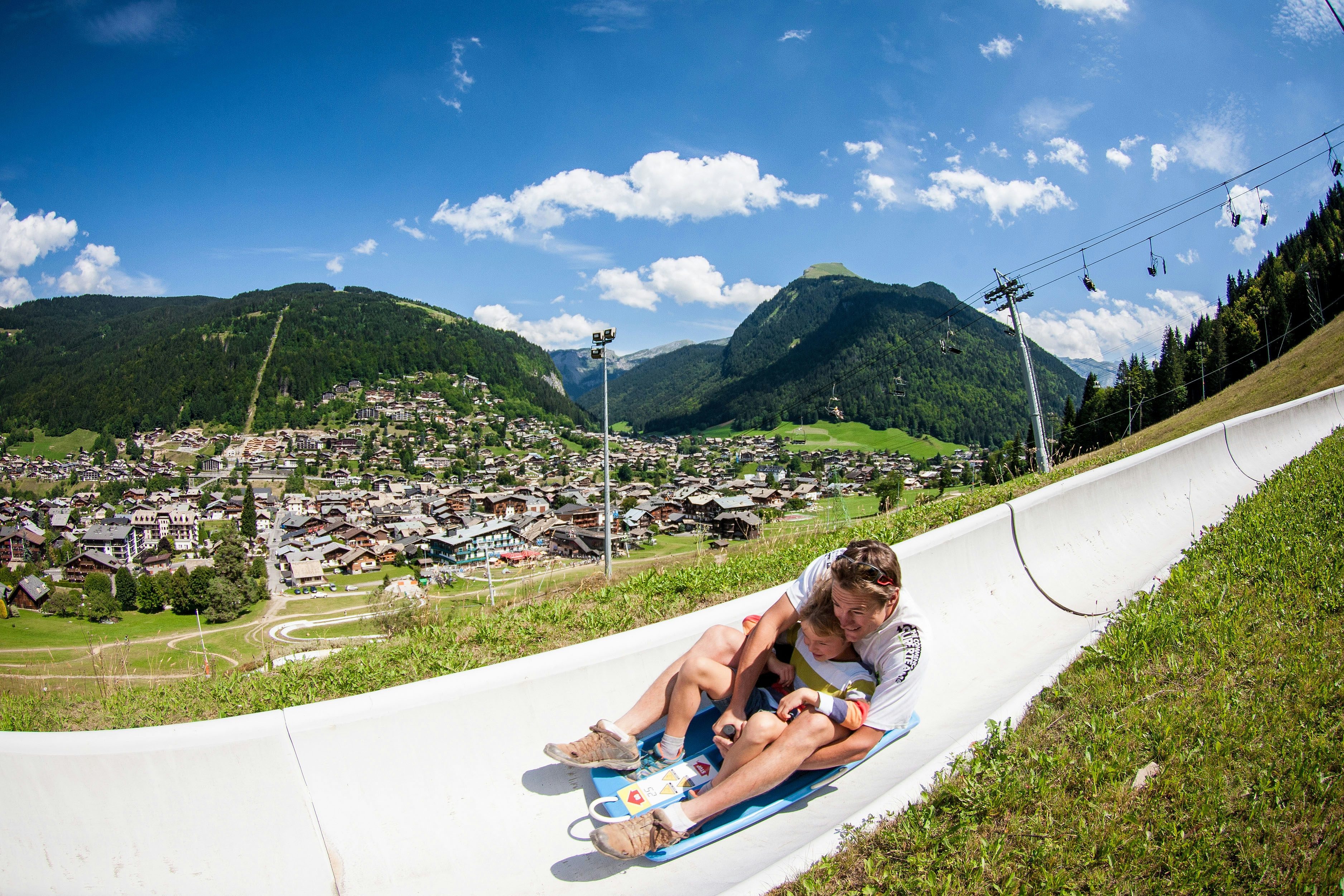 If you have small children, take a look at our Cool for Kids chalets, which contain all the 'kid extras' so you don't have to bring them with you, like plastic tableware, a bottle warmer and night lights.
Alpine holidays for everyone
A typical Alpine summer means warm, sunny days and cool nights — perfect for sports-lovers who want to enjoy summer activities such as rock climbing, mountain biking, road biking, paragliding, via ferrata or canyoning. While winter visitors come for a ski holiday, summer visitors benefit from a much wider choice of options. MTB lovers will particularly love the Portes du Soleil.
Those looking for less extreme sports can take advantage of hiking through a national park with breathtaking views over the Alps and perhaps of Mont Blanc, playing a round of golf or enjoying the big choice of water sports at nearby Alpine lakes.
Alpine holidays aren't always about sports. Take in a farm visit to see how cheese is made (and to pat the goats or cows while you're there), book a scenic flight over Chamonix or Annecy, or visit some of the local museums. For an extra slice of luxury during your visit to the Alps, why not consider renting a chalet with a pool.
Watch the Tour de France whizz past
The Tour de France generally passes through the French Alps every two years. More than a bike ride, holiday-makers watching live on the day will experience the fun of the caravan parade, with music, free gifts and a buzzing atmosphere. Bring a cow bell, a sign or a flag to get into the spirit before watching the world's most famous road bike race, with cyclists zooming past at lightning speed.
Discover the hidden gems of the Alps
It's easy to spend weeks in the Alps in summer, with so many events, activities and visits on offer. However, it's worth sparing a day or so to explore the wider area if possible. The pretty old town of Annecy and its beautiful lake make the perfect destination for shoppers, water-lovers, foodies and history lovers. Chamonix isn't far away either, and makes for an excellent day trip to places like l'Aguille du Midi or the Mer de Glace glacier.
Lesser-known places include the pedestrianised medieval village of Yvoire on the shores of Lake Geneva — perfect for a relaxing day with the kids or a romantic day out for a couple. The Plateau des Glières provide endless trails for mountain biking and hiking in the Alps, and features a monument to The Resistance war movement, who fought on the plateau.
Explore Haute Savoie from beautiful self-catered accommodation
A holiday in the French Alps really does have something for everyone. And at OVO Network, we have the perfect accommodation for every type of stay, whether you're sporty adventurers or a family looking for a relaxing break in natural surroundings.

Take a look at our summer chalets and choose the ideal accommodation for you and your family or group of friends.